"*" indicates required fields
Trusted Cash Home Buyers in Nashville Since 2001
We buy houses in Nashville and in most cities in middle Tennessee. If it's time for you to sell your house fast in Nashville, then look no further. We are trusted cash home buyers in Nashville and we buy houses for cash - no hidden fees or strings attached. 
You can sell your Nashville house fast to us exactly as it is, and we will still pay you a fair cash offer.
---
Selling a home in Nashville or surrounding areas can be a time-consuming and discouraging process, and one that many homeowners don't want to deal with. However, at TN HomeBuyers™, we help make the process easy so that you can sell your home fast and get on with life. Call us now at 615-299-5525.
---
Interested in LEARNING MORE?
Follow the 3 Steps Below to begin the process
The TN HomeBuyers™ 3-Step Process
---
Step 1
Visit Our How It Works Page
Understand how the process works and learn how we come up with our offer.
Step 2
Check Out Our Reviews
We know you likely want to know more about who you might be working with. See what some our happy home sellers have had to say about us!
Step 3
Request Your Fair Cash Offer
We will reach out within 24 hours to learn more about your house or rental property. Fill out your information and let us take it from there!
A Little About TN HomeBuyers™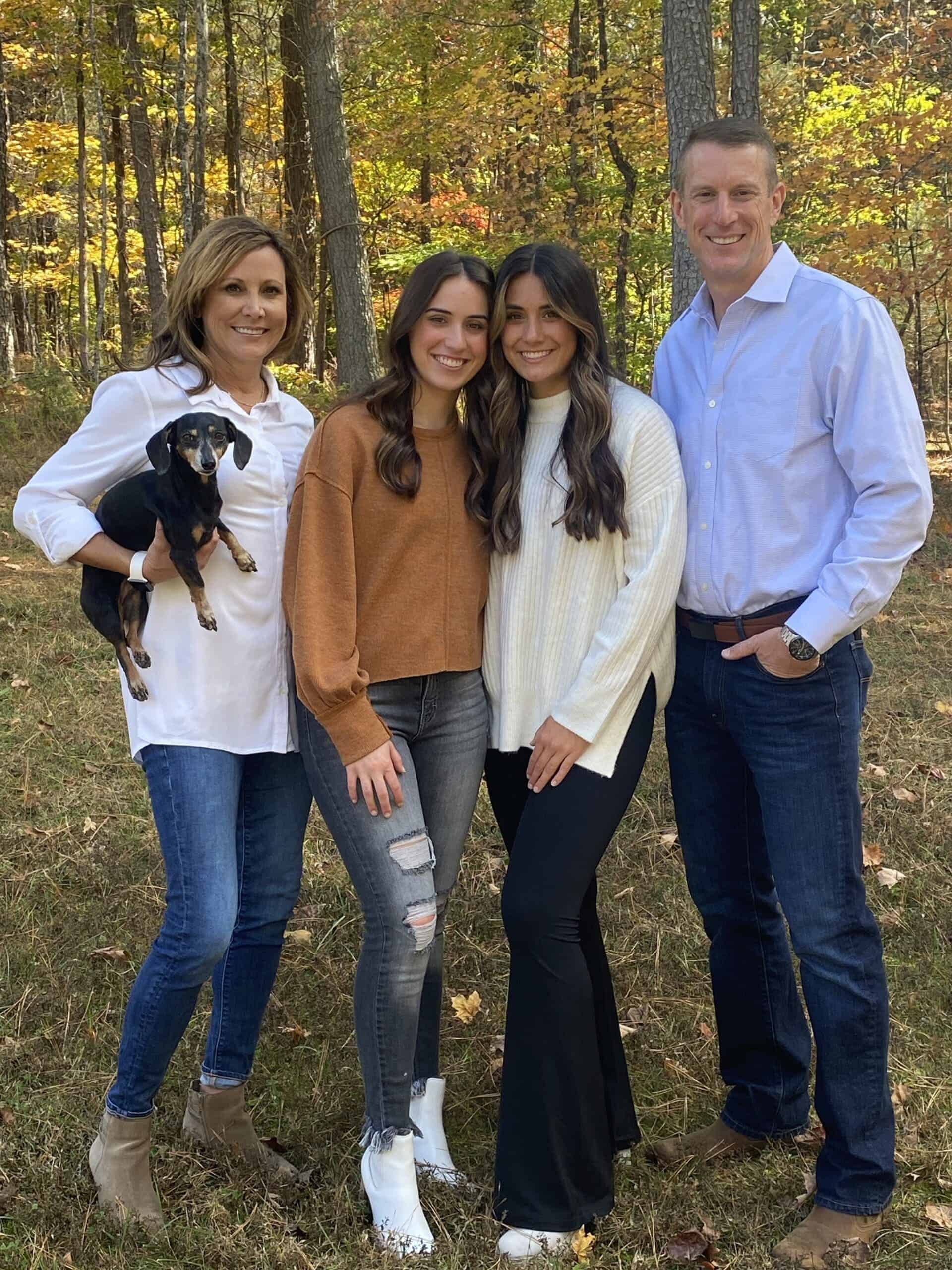 At TN HomeBuyers™, we believe in family, faith, and community. – Dan Lain
---
TN Homebuyers™' roots date back to 1973 when co-founder and Nashville Metropolitan Police Officer Tommy Owen bought his first rental home in East Nashville. Nearly thirty years later, in 2002, after retiring from the police department, Tommy partnered with his son-in-law, Dan Lain, a Middle TN native and graduate of Middle Tennessee State University. The two partners formalized the house buying business and named it TN HomeBuyers™. Their original mission still stands, to be the easiest solution for owners to sell their property quickly.
---
---
---
Learn More About TN HomeBuyers™
Sell My House Fast in Nashville
Have you tried to sell your Nashville home, but you've hit some roadblocks along the way? If you've found yourself in this situation, then you've probably turned to a real estate agent. But, this isn't always the best option when you want to save money and you need to get out of your home fast. That's where we step in. We buy houses in Nashville with cash, which means we are able to close quickly and on your schedule. When you work with TN HomeBuyers™, there's no more waiting around for months for your house to sell or for the bank to approve your loan.
Do you want to know the best part about working with us? There are no hidden fees, closing costs, or appraisals involved. This is why hundreds of happy clients have chosen to work with us. We make the home selling process pain-free!
---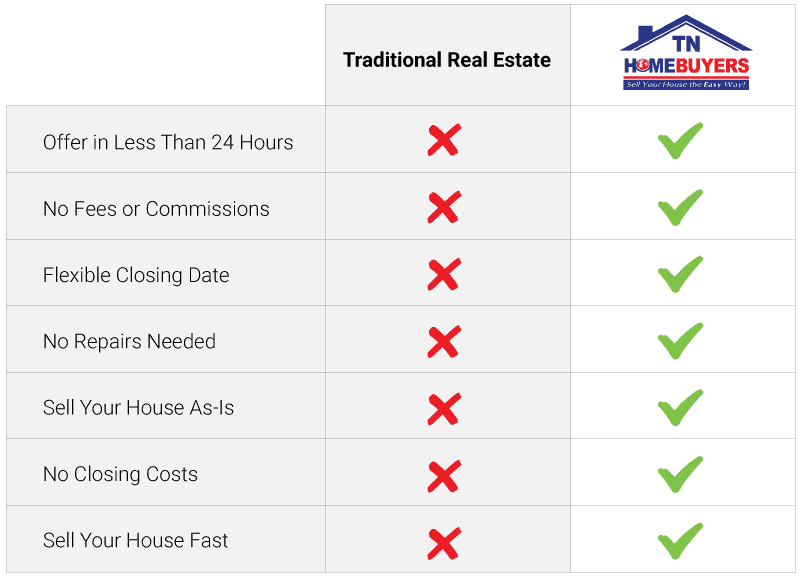 Sell your House Fast in Nashville in Any of These Situations
---
No matter your situation, we will help you sell your house fast in Nashville! We buy houses in any condition or price range for cash. We make it easy to sell your house fast, and you don't have to worry about making repairs. We buy houses in Nashville in any condition.
---
Facebook

4.8 Star Rating
"My husband and I sold our home with Tennessee Homebuyers. It was a great experience. The staff was very friendly and the process was seamless as advertised. They definitely accommodate the seller. I recommended them to my sister 2 years later and I received a referral check for $1,000.00 when she closed on the sale of her home!"
Nancy J. ⭐⭐⭐⭐⭐
We Pay All Cash
Because we pay cash, we can be flexible and close on your time frame. We don't need to wait for an appraisal or lender approvals.
Easy & Clear Terms
We make this a simple, straight forward and easy to understand process for you.
We Do the Paperwork
We use a licensed and insured title company and we will make sure the details are taken care of, so you don't have to.
Zero Fees
You won't have to pay any title or closing costs.
Sell "As-Is"
You won't have to fix or clean anything! We will buy your home the way it is.
Close in Days
We can close in as little as 3 days.
Enter Your Tennessee Address to
"*" indicates required fields
Of Selling to TN HomeBuyers™
Traditional Sales Process
6% of purchase price plus other fees
Price haggling and unpredictable offer
Clean up and repair hassle
Long sales timeline, often 2-3+ months
ZERO FEES to sell your home
Sell AS-IS. No cleanup or repairs, or showings
Close in as little as 10 days, move when you're ready
Lower prices, zero transparency
High-pressure sales tactics, often not trustworthy
Small-scale local operators not a trusted brand
🏠 THE BEST WAY TO SELL YOUR HOUSE IN TENNESSEE FAST 🏠
TN HomeBuyers™ is a Trusted Home Cash Buying team in Tennessee. We buy houses in
Nashville
,
Antioch
,
Franklin
,
Hendersonville
&
more cities
around Nashville. Whether you are trying to avoid foreclosure, inherited a property you do not want, dealing with a divorce, or are fed up being a landlord dealing with tenants, we can help. If you need to sell your house in Tennessee fast, we offer cash for all types of homes! No repairs needed!
Testimonials from those we've helped
---
"We called TN HomeBuyers™ because we liked the idea of being able to sell these without a lot of hassles. We really just wanted to be done with it all. They come up with something that would work for all of us and they made it so simple. There were several family members and they made the closing process easy for everyone, and we all had our money in just a few days. I would recommend them to anyone."
– Rhodes Family
"It was quick and easy. One of the most reputable home sellers in the state and they live up to there name. I have this duplex and I didn't have the time to deal with the tenants that were there. It was out of repair and I don't want to deal with it anymore. I was dealing with codes being called on the tenant and was just tired of it. I loved working with the team and communicated with me with updates as needed. A great experience overall."
– C. Hughes
"TN HomeBuyers™ helped us sell our rental home without having to do a single thing. We looked at all of our options and decided that Tommy could provide the best and easiest solution. We were able to sell our home quickly with no hassles for a fair price and will call again when we are ready to sell another home. Thanks for everything."
– S. Payne
Call Now to Get Your Free Cash Offer!